QUEENSLAND | Death Cleaning Service - Forensic Cleaning - Crime Scene Clean Up
Forensic Cleaning | Biohazard Cleanups | Death Cleaning Service | Trauma Cleaners - Queensland
Biohazard Trauma & Crime Scene Cleaning are a leading Queensland based forensic cleaning company with a state wide service reach. Specialising in clean up services that most companies wont go near, we pride ourselves on providing Queenland residents with a professional and compassionate service.
Forensic Cleaning Service Area Queensland: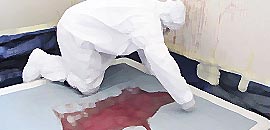 Biohazard, Trauma & Crime Scene Cleaning service all area of metro and regional QLD. Our metro service area includes Brisbane, Bundaberg, Cairns, Gladstone, Gold Coast, Hervey Bay, Mackay, Rockhampton, Toowoomba, Townsville, Sunshine Coast with services to regional Queensland available.
We can provide Biohazard, Trauma & Forensic Crime Scene Cleaning services to all regional cities and towns in Queensland, however you will incur extra charges for travel and accommodation where required.
Our team of biohazard technicians are trained and experienced in all aspects of crime and trauma scene cleaning. With years of experience in the clean up of contaminated scenes, we are Australia's leading forensic and biohazard cleaning service. With services including unattended death cleaning, suicide cleanups, gross filth cleaning, squatter property clean outs, needle pickup and clearance inspections. At Biohazard Trauma & Crime Scene Cleaning Queensland, can decontaminate any home, office, boat, caravan, vehicle, machinery or possessions that have been affected by blood, odour, bacteria or other biological contaminates. For more information on the specialised biohazard cleanup services offered in Queensland, visit our services page.

QUEENSLAND | Death Cleaning Service - Forensic Cleaning - Crime Scene Clean Up